Welcome...
Thank you for visiting the website of the North Dakota Public Service Commission. The Public Service Commission is a constitutional agency with varying degrees of statutory authority over abandoned mine lands, coal mine reclamation, electric and gas utilities, telecommunications companies, energy conversion facility siting, transmission facility siting, railroads, grain elevators, facility-based grain buyers, roving grain buyers, and hay buyers, auctioneers, auction clerks, weighing and measuring devices, pipeline safety, and underground damage prevention.
To learn more about how the PSC affects the lives of North Dakotans every day, click here: A Day in Your Life
Watch/Listen to the Commission Live
The Commission typically meets in formal session every two weeks; special meetings are held to handle special or emergency situations. Click on a link below to watch or listen to a LIVE meeting.
High Resolution webstream (1280 X 720)
Medium Resolution webstream (640 X 360)
Looking for an agenda? A calendar of events and agendas can be found by scrolling to the bottom of this page.
Miss a Meeting?
Employment Opportunities
Hot Topics - Quick Links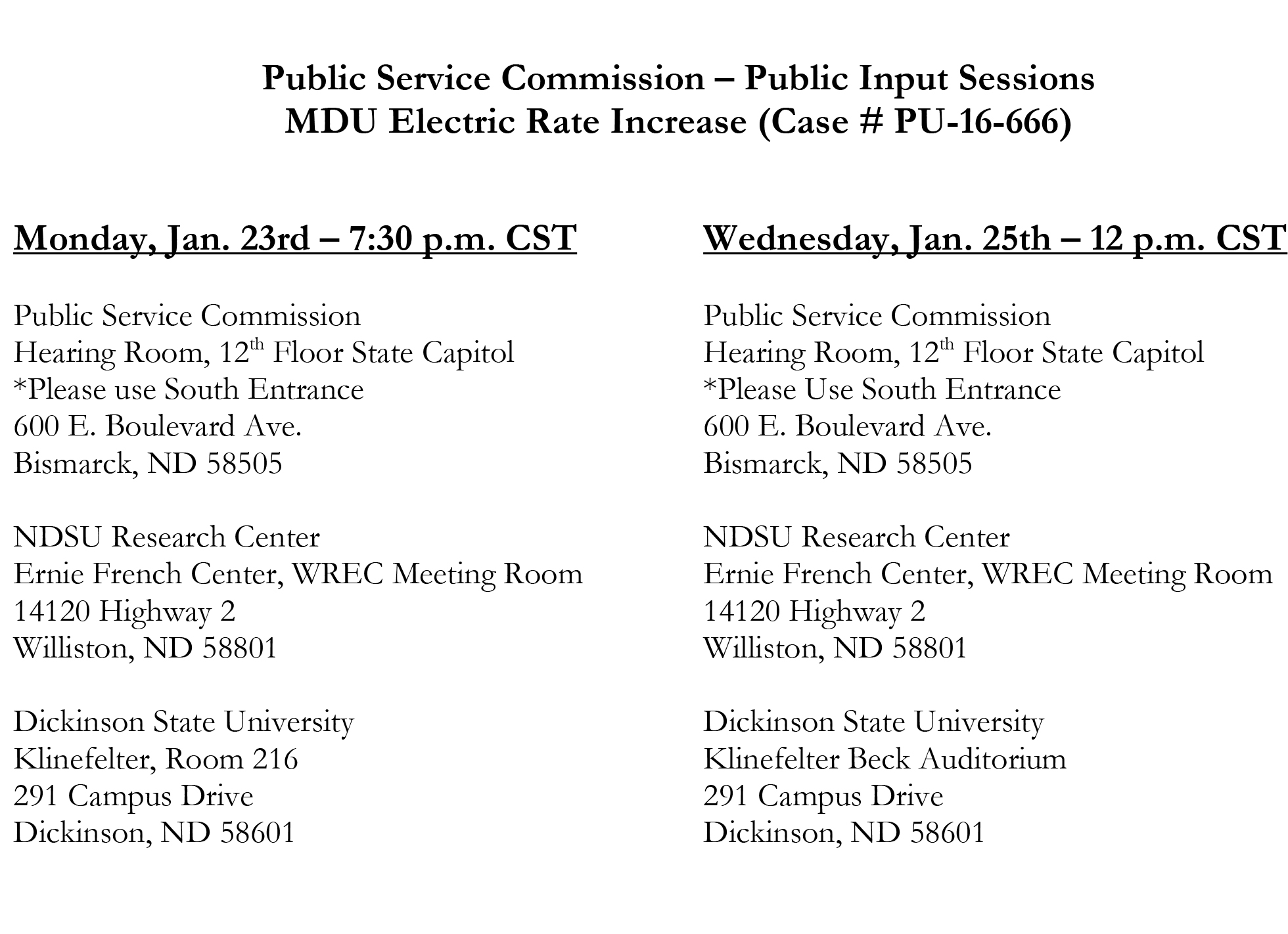 To listen via webstream:
Password: meeting
Questions can be submitted via e-mail during the session to vschock@nd.gov
What's Going On...
Commissioner Randy Christmann, Chairman (center)
Commissioner Brian P. Kalk (left)
Commissioner Julie Fedorchak (right)
The PSC takes an active role in protecting consumers by ensuring utilities follow rules, including ones that relate to disconnection of service. Working with consumers to resolve disputes with utilities, and establishing fair rates and regulations. The PSC is constantly looking out for the interests of North Dakotans.
Latest News (To view archived news releases, please visit our Newsroom)
Commission Events
State Capitol 12th Floor Hearing Room (unless otherwise noted)
January 24, 2017 - 09:00 am CST
Other
PSC Budget Discussion
January 24, 2017 - 12:00 pm CST
Other
RTC Meeting
Dakota Carrier Network Building
4020 Coleman Street
Bismarck, ND
January 24, 2017 - 02:00 pm CST
Other
MISO Update Followed by SPP Discussion
January 25, 2017 - 12:00 pm CST

Montana-Dakota Utilities Co., a Division of MDU Re
2016 Electric Rate Increase
Application
Public Service Commission Hearing Room
State Capitol - 12th Floor
600 E Blvd Avenue
Bismarck, ND
NDSU Research Center - Ernie French Center
WREC Meeting Room
14120 Hwy 2
Williston, ND
Dickinson State University
Klinefelter Beck Auditorium
291 Campus Drive
Dickinson, ND
January 27, 2017 - 11:00 am CST
Other
Legislative Discussion
January 30, 2017 - 11:30 am CST
Other Internet Broadcast
PSC Staff Chili Cookoff Gathering
January 30, 2017 - 01:30 pm CST
Work Session Internet Broadcast
Request to Amend Order

Northern States Power Company
Electric Rate Increase
Application
January 31, 2017 - 03:30 pm CST
Informal Hearing Internet Broadcast
- CANCELLED
January 31, 2017 - 03:30 pm CST
Other
Commissioner Kalk Celebration
ND State Capitol
600 E Blvd Avenue
18th Floor
Bismarck, ND
February 03, 2017 - 11:00 am CST
Other
Legislative Discussion
February 03, 2017 - 01:00 pm CST
Other
Otter Tail Power Periodic Information Exchange (PIE) Meeting
February 07, 2017 - 10:00 am CST
Other
February Director's Meeting
February 07, 2017 - 01:30 pm CST
Informal Hearing Internet Broadcast

Meadowlark Wind I LLC
New Frontier Wind Energy Project - McHenry County
Siting Application
February 10, 2017 - 11:00 am CST
Other
Legislative Discussion
February 16, 2017 - 02:00 pm CST
Informal Hearing Internet Broadcast

Montana-Dakota Utilities Co., a Division of MDU Re
Electric Service Agreement - Bronson's Marketplace
Approval
February 17, 2017 - 11:00 am CST
Other
Legislative Discussion
February 24, 2017 - 11:00 am CST
Other
Legislative Discussion
February 27, 2017 - 08:30 am CST
Formal Hearing Internet Broadcast

Public Service Commission
Public Utilities
Rulemaking

Public Service Commission
Public Utilities - Wind Decommissioning
Rulemaking
March 01, 2017 - 01:30 pm CST
Informal Hearing Internet Broadcast
March 03, 2017 - 11:00 am CST
Other
Legislative Discussion
March 03, 2017 - 12:30 pm CST
Informal Hearing Internet Broadcast

Antelope Hills Wind Pjct / West Branch Wind Pjct
Transfer of Siting Certificates and Permit
Siting Application
March 06, 2017 - 12:00 pm CST
Other
Lignite Energy Council Quarterly Meeting
Lignite Energy Council Office
Conference Room
1016 E Owens Avenue
Bismarck, ND
March 10, 2017 - 11:00 am CST
Other
Legislative Discussion
March 15, 2017 - 01:30 pm CDT
Informal Hearing Internet Broadcast
March 17, 2017 - 11:00 am CDT
Other
Legislative Discussion
March 24, 2017 - 11:00 am CDT
Other
Legislative Discussion
March 29, 2017 - 01:30 pm CDT
Informal Hearing Internet Broadcast
March 31, 2017 - 11:00 am CDT
Other
Legislative Discussion
April 07, 2017 - 11:00 am CDT
Other
Legislative Discussion
April 10, 2017 - 08:30 am CDT
Formal Hearing Internet Broadcast

Montana-Dakota Utilities Co., a Division of MDU Re
2016 Electric Rate Increase
Application
April 11, 2017 - 08:30 am CDT
Formal Hearing Internet Broadcast

Montana-Dakota Utilities Co., a Division of MDU Re
2016 Electric Rate Increase
Application
April 12, 2017 - 08:30 am CDT
Formal Hearing Internet Broadcast

Montana-Dakota Utilities Co., a Division of MDU Re
2016 Electric Rate Increase
Application
April 13, 2017 - 01:30 pm CDT
Informal Hearing Internet Broadcast
April 14, 2017 - 11:00 am CDT
Other
Legislative Discussion
April 21, 2017 - 11:00 am CDT
Other
Legislative Discussion
April 26, 2017 - 01:30 pm CDT
Informal Hearing Internet Broadcast
April 28, 2017 - 11:00 am CDT
Other
Legislative Discussion
May 10, 2017 - 01:30 pm CDT
Informal Hearing Internet Broadcast
May 24, 2017 - 01:30 pm CDT
Informal Hearing Internet Broadcast
June 05, 2017 - 12:00 pm CDT
Other
Lignite Energy Council Quarterly Meeting
Lignite Energy Council Office
Conference Room
1016 E Owens Avenue
Bismarck, ND
June 07, 2017 - 01:30 pm CDT
Informal Hearing Internet Broadcast
June 28, 2017 - 01:30 pm CDT
Informal Hearing Internet Broadcast
July 13, 2017 - 01:30 pm CDT
Informal Hearing Internet Broadcast
July 26, 2017 - 01:30 pm CDT
Informal Hearing Internet Broadcast
September 11, 2017 - 12:00 pm CDT
Other
Lignite Energy Council Quarterly Meeting
Lignite Energy Council Office
Conference Room
1016 E Owens Avenue
Bismarck, ND
December 04, 2017 - 12:00 pm CST
Other
Lignite Energy Council Quarterly Meeting
Lignite Energy Council Office
Conference Room
1016 E Owens Avenue
Bismarck, ND
Meeting Notices
State Capitol 12th Floor Hearing Room (unless otherwise noted)