The Commission: Meet the Commissioners
Commissioner Julie Fedorchak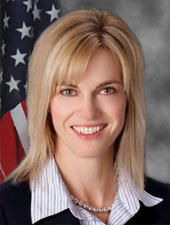 Julie Fedorchak was appointed to the Public Service Commission in December 2012 by Gov. Jack Dalrymple to fill out the term vacated by U.S. Congressman Kevin Cramer. She successfully ran for election in November 2014 to fill out the remainder of the term, which expired in 2016. In 2016 she was elected to full six-year term that ends in 2022.
Julie heads the pipeline and electric transmission siting, rail and consumer affairs portfolios. She has led efforts to enhance the Commission's pipeline reclamation program; she developed and received legislative approval for a state rail safety program; she has been a tireless advocate for reliable, affordable utility services; and she reinstated the Commission's consumer affairs portfolio to provide greater public awareness, participation and transparency in the work of the PSC.
Julie brings diverse public and private sector experience to the Commission as well as a broad understanding of the state's many regions and industries. She served as communications director and senior advisor for Gov. Ed Schafer from 1995-2000. Following this period in government, Julie started her own business, Liffrig Communications, which provided communication, marketing and government relations services to a variety of private and public clients. Julie also wrote a weekly column for the Bismarck Tribune for four years and assisted her mother in the publishing of three books. After 10 years in the private sector, Julie returned to public service to help lead U.S. Senator John Hoeven's state organization. She was promoted to State Director in 2011.
The youngest of eight children, Julie was born in Williston. She completed elementary and junior high school in Fargo and graduated from Bismarck Century High School in 1986. Julie earned a bachelor's degree in journalism from the University of North Dakota in 1990 and then launched her professional career with the University of North Dakota Alumni Association and Foundation
Julie is married to Mike Fedorchak of Minot. They have three children and live in Bismarck where they are involved in a number of activities and organizations.
Hi-resolution photo (823kb jpg 300dpi)