The Commission: Meet the Commissioners
Commissioner Brian Kroshus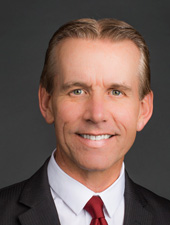 Brian was appointed to the Public Service Commission in March 2017 by Governor Doug Burgum. Brian has a background in business, agriculture and energy.
Brian's portfolio at the Public Service Commission includes electric and gas economic regulation, pipeline safety and damage prevention, weights and measures and consumer affairs.
Born in Fargo and graduate of North Dakota State University, Brian deeply values his North Dakota heritage. His agricultural upbringing, from time in 4-H and FFA to present day as an owner of a cattle and grain operation in western North Dakota, allow him to fully appreciate and effectively address landowner concerns. He recognizes the importance of creating a balance between responsible infrastructure development, economic growth and environmental stewardship in order to provide safe, reliable and affordable energy to North Dakota citizens and businesses.
Prior to his appointment to the Public Service Commission, Brian spent 30 years in business leadership and management including 17 years as enterprise leader of Farm and Ranch Guide, 13 years as division leader of Lee Agri-Media and 10 years as publisher of the Bismarck Tribune. During his private sector career Brian was recognized numerous times for operational excellence, finding new efficiencies and exceptional leadership.
Brian has served as a board member and trustee for numerous organizations including United Way, Bismarck-Mandan Chamber, Bismarck-Mandan Development Association, Sanford Health Foundation, Lewis and Clark Fort Mandan Foundation and Bismarck State College Foundation. Brian served as president of the Bismarck State College Foundation in 2012-2013 and co-chaired the United Way Missouri Slope Area Wide Annual Gift Giving Campaign in 2009. In 2008, he participated in a mission trip to Guatemala to help underprivileged citizens in that country.
Hi-resolution photo (1.65Mb jpg 300dpi)