Emergency Notification System
-
IN CASE OF EMERGENCY, CALL 911
Railroads are fast paced operations that need to know immediately if there is an issue on or near the tracks. When it comes to railroad emergencies, saving lives and preventing injuries and damage comes down to minutes and seconds, not hours and days.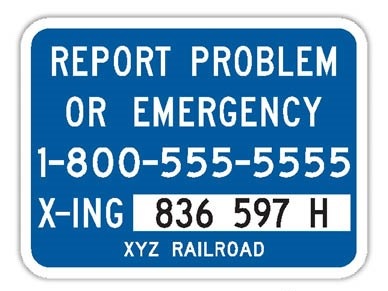 To report a dangerous situation, suspicious activity on railroad property, or a blocked crossing, find the Emergency Notification System (ENS) sign that is located near the crossing. This is a blue sign approximately 12" X 18" with a telephone number and a DOT Crossing Identification Number. If there is an emergency, first call 911, then immediately call the number on the sign, provide the crossing ID, and explain the situation so the railroad can take appropriate actions.
A dangerous situation or suspicious activity may include a vehicle stalled on or near a crossing, emergency vehicles stopped by a blocked crossing, pedestrians tampering with railroad equipment, or any circumstance that may cause an immediate or future threat to people, property, or the environment.
The Federal Railroad Administration (FRA) has developed guides to inform specific sectors of government and the general public on how to ensure that you stay safe when you are around railroad tracks and crossings.
Additional Resources