Welcome...
Thank you for visiting the website of the North Dakota Public Service Commission. The Public Service Commission is a constitutional agency with varying degrees of statutory authority over abandoned mine lands, coal mine reclamation, electric and gas utilities, telecommunications companies, energy conversion facility siting, transmission facility siting, railroads and railroad safety, auctioneers and auction clerks, weighing and measuring devices, gas pipeline safety, and underground damage prevention.
You Should Know...About the ND Public Service Commission
To learn more about how the PSC affects the lives of North Dakotans every day, click here: A Day in Your Life
Watch/Listen to the Commission Live
The Commission typically meets in formal session every two weeks; special meetings are held to handle special or emergency situations. Click on a link below to watch or listen to a LIVE meeting.
High Resolution webstream (1280 X 720)
Medium Resolution webstream (640 X 360)
To participate via telephone, dial 1-888-585-9008 Access Code: 671-872-185
Looking for an agenda? A calendar of events and agendas can be found by scrolling to the bottom of this page.
Miss a Meeting?
Feb. 2, 2022 - Public Input Sessions Xcel Natural Gas Rate Case (Noon and 5:30 pm)
The North Dakota Public Service Commission (PSC) will hold two remote public input sessions on Feb. 2, 2022. The sessions will be an opportunity for Xcel natural gas customers to provide comments regarding a request for an increase to their natural gas rates.
During the sessions, officials from Xcel will provide a presentation regarding their proposal and then public comments will be taken. The proposed increase would result in an annual increase in its North Dakota gas service revenue of $7.1 million or 10.5 percent.
In keeping with recommendations of public health officials to minimize public gatherings while COVID is circulating and to make it easier for people to participate, this hearing will be held remotely and members of the public are encouraged to provide their comments in writing or by telephone.
Use this link to view the public input sessions (view only) - High Resolution webstream (1280 X 720)
Click here to view all docketed materials for this case (PU-21-381)
To participate via telephone, dial 1-888-585-9008 Access Code: 671-872-185
Public Input: The Commission will receive comments through the following methods:
Written – Written comments may be submitted via e-mail by sending to ndpsc@nd.gov or by mail addressed to: Public Service Commission, 600 E. Boulevard Ave., Dept. 408, Bismarck, ND 58505. Written comments will be accepted Feb. 2-9, 2022.

Telephone – Xcel customers wanting to comment on the phone during the public input sessions should call 701-328-4081 to be placed on a list. On Feb. 2, 2022, the Commission will call you back during the designated public input session.
Hot Topics - Quick Links
Employment Opportunities
What's Going On...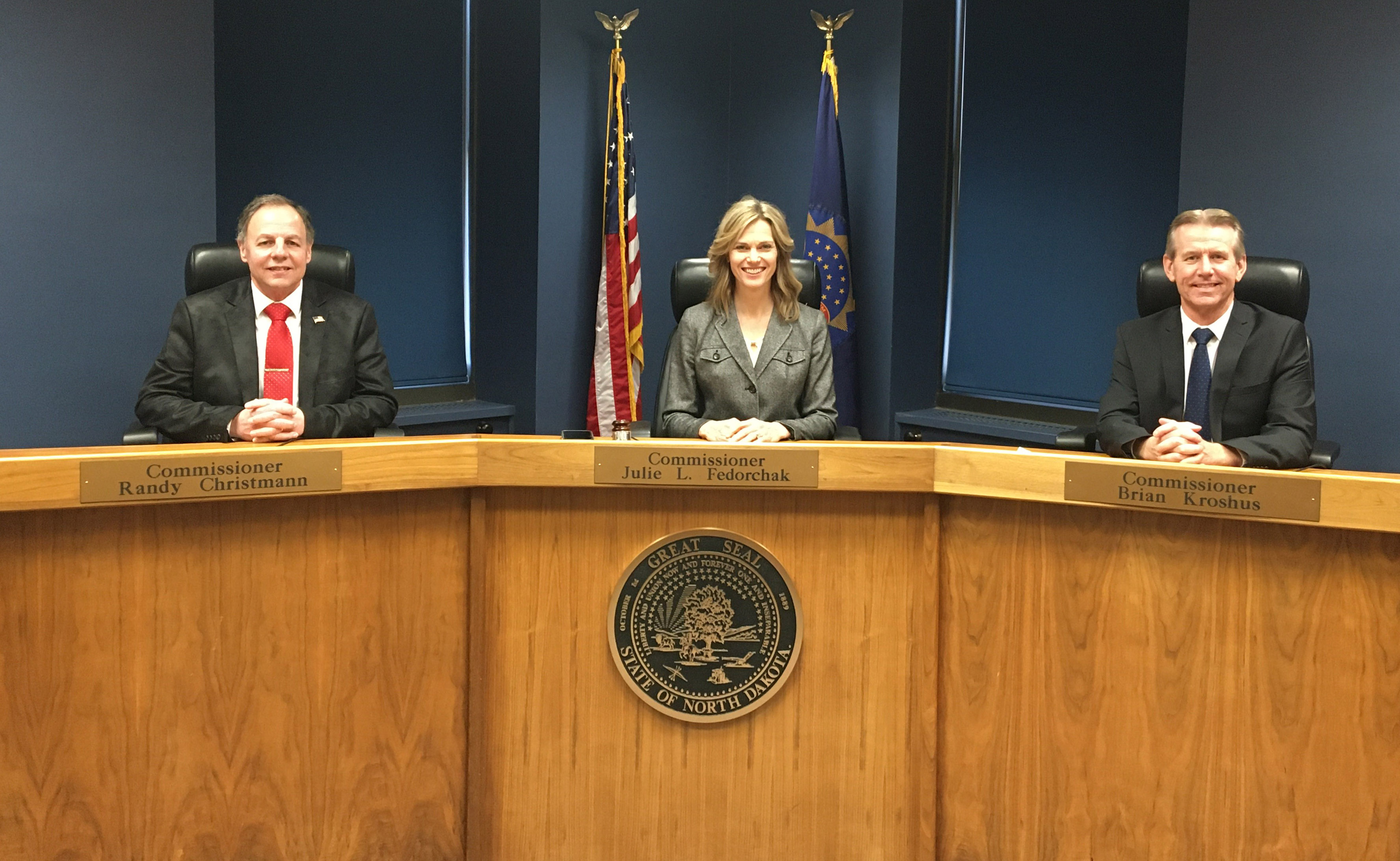 Commissioner Julie Fedorchak, Chair (center)
Commissioner Randy Christmann, (left)
Commissioner Brian Kroshus, (right)
The PSC takes an active role in protecting consumers by ensuring utilities follow rules, including ones that relate to disconnection of service. Working with consumers to resolve disputes with utilities, and establishing fair rates and regulations. The PSC is constantly looking out for the interests of North Dakotans.
Latest News (To view archived news releases, please visit our Newsroom)
Commission Events
State Capitol 12th Floor Hearing Room (unless otherwise noted)
January 26, 2022 - 09:00 am CST
Informal Hearing (52.00KB pdf) Internet Broadcast
MDU-Renewable Resource Cost Recovery-Rates PU-21-420
February 01, 2022 - 09:30 am CST
Informal Hearing (53.00KB pdf) Internet Broadcast
NSP-Transmission Facility Cost Recovery (2022)-Rates PU-21-396
February 01, 2022 - 01:00 pm CST
Other (54.00KB pdf)
Periodic Information Exchange Meeting with North Dakota Petroleum Council
February 02, 2022 - 12:00 pm CST
Public Input Session (846.00KB pdf) Internet Broadcast
Public Input Sessions-NSP-2021 Natural Gas Rate Increase-PU-21-381
February 02, 2022 - 05:30 pm CST
Public Input Session (846.00KB pdf) Internet Broadcast
Public Input Sessions-NSP-2021 Natural Gas Rate Increase-PU-21-381
February 23, 2022 - 01:30 pm CST
Informal Hearing Internet Broadcast
Informal Hearing
March 09, 2022 - 01:30 pm CST
Formal Hearing (854.00KB pdf) Internet Broadcast
PSC-Pipeline Safety & Surface Coal Mining & Reclamation Operatns-Rulemaking
March 30, 2022 - 01:30 pm CDT
Informal Hearing Internet Broadcast
Informal Hearing
April 13, 2022 - 01:30 pm CDT
Informal Hearing Internet Broadcast
Informal Hearing
May 04, 2022 - 01:30 pm CDT
Informal Hearing Internet Broadcast
Informal Hearing
May 11, 2022 - 01:30 pm CDT
Other (53.00KB pdf)
Rail Safety and Stakeholders Discussion
May 25, 2022 - 12:45 pm CDT
Informal Hearing Internet Broadcast
Informal Hearing
June 08, 2022 - 01:30 pm CDT
Informal Hearing Internet Broadcast
Informal Hearing
June 29, 2022 - 01:30 pm CDT
Informal Hearing Internet Broadcast
Informal Hearing
July 13, 2022 - 01:30 pm CDT
Informal Hearing Internet Broadcast
Informal Hearing
July 27, 2022 - 01:30 pm CDT
Informal Hearing Internet Broadcast
Informal Hearing
August 17, 2022 - 01:30 pm CDT
Informal Hearing Internet Broadcast
Informal Hearing
September 07, 2022 - 01:30 pm CDT
Informal Hearing Internet Broadcast
Informal Hearing
September 21, 2022 - 12:45 pm CDT
Informal Hearing Internet Broadcast
Informal Hearing
October 05, 2022 - 01:30 pm CDT
Informal Hearing Internet Broadcast
Informal Hearing
October 19, 2022 - 12:45 pm CDT
Informal Hearing Internet Broadcast
Informal Hearing
November 10, 2022 - 01:30 pm CST
Informal Hearing Internet Broadcast
Informal Hearing
November 30, 2022 - 01:30 pm CST
Informal Hearing Internet Broadcast
Informal Hearing
December 14, 2022 - 12:45 pm CST
Informal Hearing Internet Broadcast
Informal Hearing
December 28, 2022 - 01:30 pm CST
Informal Hearing Internet Broadcast
Informal Hearing
Meeting Notices
State Capitol 12th Floor Hearing Room (unless otherwise noted)